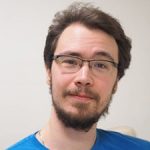 Senior full-stack developer. Go, Java, React.js, Android development
I started programming when I was 15. Completed a large number of projects, big and small, and each new project is a challenge and a possibility to learn something new. I think that in our industry, permanent education is a necessary part of being a professional. This attitude is one of the reasons my technological stack is pretty broad, but it's not shallow at the same time. I also consider Agile methodology an important technique with all things coming along as CI/CD, code reviewing, and proper version control there to help developers and teams to be more productive and overcome challenges and uncertainty. Sometimes I can be meticulous at critical production code sections, at the same time, can quickly build a prototype when needed.
Work Experience
AISystems LLC (Agency), Tauros Media (Agency)
January 2012 – present
Junior web developer, Senior full-stack developer, Team lead
Various projects, project management/team-lead for a mobile application
Nextail/Blokker Holding (blokker.nl)
August 2018 – present
Full-stack developer
Frontend with vue.js. Used Algolia as a search engine. Golang microservices running on Google Cloud platform. Google Datastore and Big Query as databases. Developed new features and was also supporting the legacy infrastructure during migration.
Cityfoodclub.ru
January 2018 – August 2018
Android application developer, server side developer
Developed an android application, and was using Golang microservices on the backend.
Carpool Arabia (Vanpool Arabia)
January 2016 – December 2017
Server-side developer
PHP core with Python microservices. Python API tests. Golang microservices running on Amazon cloud.
Linkros.ru
March 2012 – December 2015
Server-side developer
Python messenger for support. Database optimizations (MySQL and Redis). REST API development. Golang data processing services. PHP backend using CodeIgniter. Android application developer.
Key Skills

Golang (senior): Standard libraries, Modules, Gorilla/Chi
Python (middle): Django, Flask
JavaScript\Typescript (senior): Vue.js, React.js, Redux, Angular.js, JQuery, Node JS
Java (senior)
Scala (middle)
Android Native Java/Kotlin (middle)
Databases: MySQL, MongoDB, Redis, PostgreSQL, BigQuery, Firebase
Frontend (senior): CSS, SASS, LESS
PHP (senior): Yii2, CodeIgniter, Laravel
C# (middle)
Education
Omsk State Technical University (OSTU)
Omsk – Master degree in Computer Science (Reliability of computing and networking specialization), 2014
Omsk State Technical University (OSTU)
Graduated cum laude, Omsk – Bachelor of Computer Science, 2012